My Life's Greatest Adventure
26. Februar 2018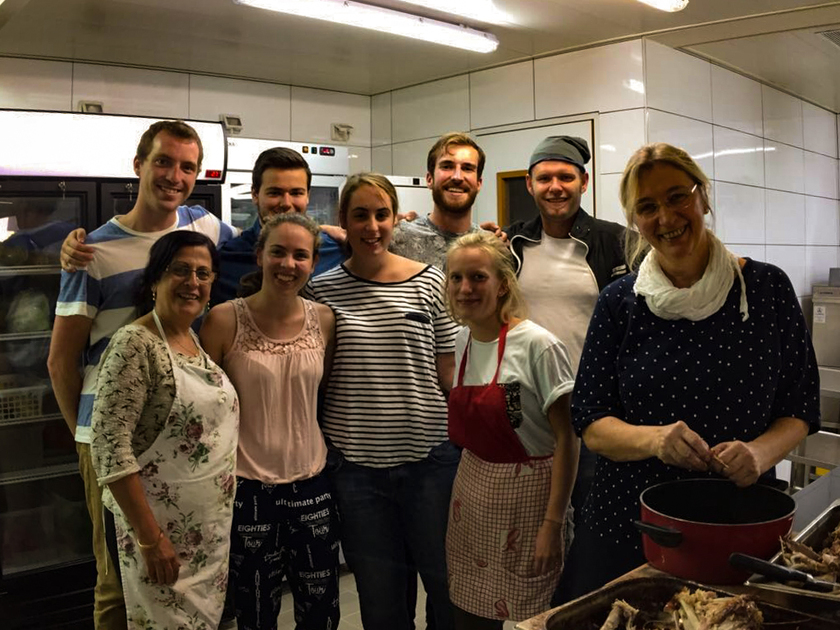 Die Tabgha-Volos (2017/18) mit Oblatin Andrea sowie unseren Mitarbeitern Zuhad und Paul.
Community: the be all and end all of the Rule of St. Benedict
Community. It's the be all and end all of St. Benedict's rule, the rule which guides the life of all Benedictine monks. It's a word that means different things to different people. A community can be large, including all the residents of a state such as Minnesota in the US or Bavaria in Germany. But a community can also be as small as the members of a book club or roommates in a dorm room. In every case, a community is some form of bond shared between people, a bond that can transcend personal beliefs, ethnicity, and nationality.
Arriving in Tabgha
Sam and I didn't know what to expect upon arrival in Israel. The specifications of our mission were largely unclear – all we knew was that we would be spending the year living alongside German monks in a small monastery on the shore of the Sea of Galilee. Coming into the year, I had a bit of anxiety regarding how well two Americans would fit in with the German Benedictines. Neither Sam nor I had studied German in America, so there might be a language barrier. There was also the question of how well we would integrate into a monastic setting for an entire year. Luckily, the transition was made easy for us. The monks welcomed us with open arms into their community. It turned out that we weren't alone as outsiders to the monastic world; four other volunteers from Germany were there to join us. The inclusion of other non-monastic people our age to hang out with did a lot to ease the nerves I had about incorporating myself into monastic life.
Over the six months I've been in Tabgha, I've built good relationships with the monks here. They go out of their way to include us volunteers in their community, making sure we feel as though Tabgha is our second home. Every Wednesday we have a social dinner, which is a nice break from the silent dinners we have on the other days of the week. This allows us time to converse with each other while we eat a special meal that differs week to week. We also look forward to Sunday evenings, when the monks host us for a social hour after dinner where we eat sweets and socialize for an hour before Komplet.
In addition to accepting us into their community through day to day interactions and setting aside time for us, the monks also prepare "blue days". This is a day when all of us volunteers take off work and join the monks on an excursion somewhere in Israel. After years of living on the shores of Galilee, the Fathers know what's worth seeing in the area, and share their knowledge with us. We've done many cool things such as swimming in the Jordan River, biking through a nature preserve, and my personal favorite visiting the archeological site of the ancient city of Hippos, just on the other side of the lake. Father Basilius shared his knowledge about the site with us to give us some fascinating insight as to what we were looking at. The trip came with a picnic and a great view of the bluffs surrounding the Sea. Sharing experiences is a key part in forming community, and I'm happy to say that we've had that opportunity here.
The bigger Tabgha community
The Tabgha community includes more than just the monks who live here in the monastery. There are also Arab Christians who work alongside us and a convent of Sisters from the Philippines who live on the same land owned by the DVHL right next door to us. Both of these groups enrich our lives here in Tabgha and are part of our "Israel families". Having them to interact with makes being away from home for such an extended period of time a little less lonely.
The Sisters are a joy to be around. They are always so upbeat and happy; even if you are having a bad day they can bring a smile to your face. They also like to put on a show. For their feast day, the feast of Christ the King, they asked us volunteers to prepare a song to sing for their entertainment program. The audience would be Pilipino people from across Israel. We of course said we would prepare a song for them, and we wanted to make it memorable. Instead of picking a simple, easy song we decided to put together an acapella version of Queen's Bohemian Rhapsody. We went all out, giving different people different parts as if we were an actual choir, complete with an awesome air guitar solo. Come performance day I'm pretty sure we sounded terrible, but it didn't matter - the crowd loved it! We went on to sing another song that day, a song about building community. All of the Sisters and even Brother Jonas joined in.
Another great part of living at Tabgha is interacting with the Christian people who also work here. Andrea moved here from Germany a few years ago, and is now an Oblate who lives in a building up on the hill. She is in charge of sewing, and has given us a few lessons. We also help her crush lavender up and stuff it into little pillows to sell in the gift shop. It is nice when she invites us up for coffee and waffles as well. Then there is Adel, in charge of the finances, Manal and Osaima who work in the gift shop, Zohad and Rodeina who control the kitchen, Munir and Musa who work at the kiosk, Abu Mario who operates the gate, and Nizar, Tabgha's savior and handyman. If anything is not working Nizar is the one to get it operational again.
Each of these people has helped shape our Tabgha experience. Manal helps brighten our day, and is always talking to us and making us laugh during lunch break. It was Munir who gave us our first taste of Arak, a licorice flavored liquor, while we visited him in the kiosk. Abu Mario is always good for a laugh and a nice weather report while we're taking out the garbage bins. Osaima used to be a barber, and has given us all free haircuts during our time here. Zohad helped Sam and I prepare a thanksgiving feast for the entire Tabgha community, and without her help we would have surely failed! We talk to Nizar every day, making jokes and attempting to learn German and Arabic (he speaks both). He also taught us how to make coffee the Arabic way, a skill which comes in handy quite often and that we are super grateful for!
Holidays in another kind of "home"
It's hardest to be away from home during the holidays, especially Christmas time, but the people here have made it an experience I will never forget. In the weeks leading up to Christmas the kitchen always smelled amazing! Father Jonas was preparing Christollen and Father Basilius invited us to make a ton of Christmas cookies for the upcoming feasts we would have. It was fun getting messy in the kitchen, cutting stars out of the dough, baking them and putting jam between them to finish the project. I'm not exactly the most talented baker, and they certainly didn't look too pretty, but it's the thought that counts. It also made Tabgha feel more like home, even though it was warm and there was no snow to be seen. Then on Christmas Eve the monks invited us for cookies and hot chocolate, and we got to spend meaningful time together on the holiday.
We also got invited to a Christmas meal at the home of Rodeina in Rame, a city not far away from Tabgha. We met her family, and Zohad and Osaima were there as well. It was an incredible evening! We ate tons of good food, and had great company to share it with. I had one of the best pork chops I've ever eaten, and was already super stuffed when they brought in the chicken (I did manage to finish two skewers of it regardless). It was so cool to really see what an Arabic feast is like. All of us gathered together in her home really reminded me of my family gatherings back home and was one of the aspects of our Christmas celebrations that I really cherished.
My life's greatest adventure
I have grown a lot in the six months I've been in Tabgha, both mentally and spiritually. Being away from the stressful, chaotic life I knew being a student in America and coming to Tabgha to serve has allowed me the time to reflect on what kind of person I am and what kind of person I want to become. The people who've come into my life in these past months are all special to me and have helped me create memories that will last a lifetime. Living on the other side of the world has been my life's greatest adventure, and I could not have asked for a better community to spend it with.