Mount Zion Award 2019
05. September 2019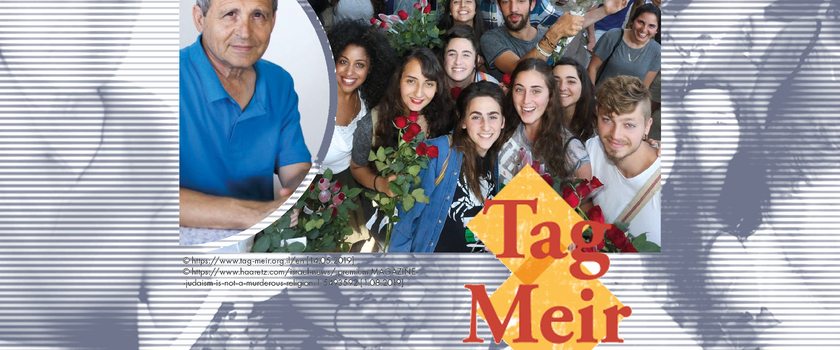 Mount Zion Award 2019
The
MOUNT ZION AWARD

2019 goes to Tag Meir – Dr. Gadi Gvaryahu

TAG MEIR (United Against Racism) seeks to transcend religious divides, enlisting support from across the Israeli spectrum, from secular through Reform and Conservative to Orthodox and Ultra-Orthodox.

It is the umbrella organization that runs a coalition of partnership with a forum of 48 organizations and institutions in Israel, from the social justice-focused New Israel Fund to Jerusalem's religious and cultural institution Beit Avi Chai. The Tag Meir group protests against so-called "price tag"-attacks in which Jewish extremists damage Arab or Church property.

Tag Meir sees the battle against racism, violence, and destruction as part of a campaign to support democratic values, and the very traditional Jewish values of loving our neighbors and justice for all. The members of Tag Meir pay condolence visits to victims of terror and violence, they repaint over racist graffiti and offer material support to religious places defaced. They hold meetings with politicians and decision makers to end incitement and rhetoric that is inflammatory. They appeal through their legal team and petition the Israeli High Court of Justice in order to pressure law enforcement of inciters and perpetrators of hate crimes. The most prominent project is the 'urgent response' to Jewish and Arab terror attacks within Israel and the West Bank. The response of Tag Meir team visits affected communities, bereaved families, and hospitalized injured victims. Tag Meir activists, Jews and Arabs, distribute flowers in the Old City of Jerusalem to the residents of the Old City and to its visitors. All are yearning for hope and peace.

Dr. Gadi Gvaryahu, representative of Yod Bet B'Heshvan, will receive the award on behalf of the organization.
In
HONOR

OF

LIFE

'S

WORK

of Dr. Michael Krupp

Dr. Michael Krupp, born 1938 in East Prussia, Germany, and grown up in Essen, studied Protestant Theology, Judaism, and Islamic Studies. His parents were active opponents of National Socialism and representatives of the Confessing Church, who opposed the persecution of the Jews. A short time after his first visit to Israel in 1959, he married his wife Danièle, and since 1970 he has been living with his Jewish family in Jerusalem. There he set up a church meeting center, supervised German theology students at the Hebrew University, led the office of "Aktion Sühnezeichen" ("Action Reconciliation"), was inter-confessional representative and later chair of the "Israel Interfaith Association". He was one of the co-founders of the "Studying in Israel" programme, established in 1978, and served as its director until 2003. Michael Krupp rejected the mission to Jews, always fighting against social anti-Semitism and anti-Judaism. Michael Krupp is an academic scholar, Talmud researcher and expert in Jewish history, pacifist and pioneer of interfaith in Israel and Palestine. It is an honor for the Mount Zion Foundation to acknowledge Dr. Krupp's life's work on the Nostra Aetate Day in Jerusalem.
Presentation of the Mount Zion Award 2019
The ceremony will take place on
Sunday, November 3, 2019, 4:00 pm
at the Dormition Church, Mount Zion, Jerusalem.
Program
Music
Salutation
Abbot Bernhard M. Alter

O.S.B.

(Dormition Abbey)
The Mount Zion Foundation and its Founder Rev. Dr. Wilhelm Salberg
Prof. Dr. Verena Lenzen (Institute of Jewish-Christian Research, Lucerne, Switzerland)
An Honorary Award for life's work of Dr. Michael Krupp
Abbot Bernhard M. Alter

O.S.B.

/ Prof. Dr. Verena Lenzen
Music
Laudatio
Yisca Harani (2013 Mount Zion Awardee)
Music
Award Ceremony
Abbot Bernhard M. Alter

O.S.B.

/ Prof. Dr. Verena Lenzen / Fr. Markus Muff

O.S.B.

Speech of Thanks by the Laureate
Dr. Gadi Gvaryahu
Music
Reception
---
Invitation Card (as single jpg-files)